What's new on my Kyokushin pages?
Started my Budo career late 70's in Kyokushin with shihan Loek Hollander. In 1984 I became DESHI (accepted student) of Shihan Henny Ruberg at Budokai Hontai, where i learned all the details of Kyokushin (Kihon, Kata, kumite). I had to stop in 1992. At that time it was organized under the umbrella of the IKO (Sosai Masutatsu Oyama).
In my second and recent Budo-career (2016) I learned the new Kata's from shihan Vlado Haljer of the KIKO (Kancho Hatsuo Royama). It was also my first introduction with KOBUDO.
In this period I also became DESHI of Jan Vleesenbeek at Budokai Vleesenbeek. Sempai Ecem Yuksel teached me the new details of the KWF Kata's.
Recently (summer 2018) I became DESHI of Budo Shihan Jan Kallenbach, teacher in Tai Ki Ken, Shin-Ken, Bo-Ken and Bo.
The making of my personal website and in particular the Kyokushin pages is an on-going and time consuming activity. New items occur. Feedback, improvements and new insights need to be added.
Below a list of pages that where completed (may 2019). I'm currently translating de technical details to the KWF-format.
III. TAI KI KEN
Recently (summer 2018) I became DESHI of Budo Shihan Jan Kallenbach, teacher in Tai Ki Ken, Shin-Ken, Bo-Ken and Bo.

IV. HISTORY
This chapter is always under construction. I will focus on the beginning towards the current situation within the KWU.

V. JUNBI UNDO en HOJO UNDO
Hojo undō (補助運動) is a Japanese language term, translated as "supplementary exercises", that refers to the conditioning exercises specifically used in martial arts more specifically in Karate. Hojo undō training was designed to develop ambidextrous physical strength, stamina, muscle coordination, speed, and posture. This style of training uses simple, traditional devices, made from wood and stone.

WARMING UP and STRETCHING exercises, JUNBI UNDO (準備運動):
- Front Split Loaded Mobility Routine
- Middle Split Loaded Mobility Routine (INTENSE)
- PNF Exercises For Middle Splits.

WEIGTH TRAINING exercises, CHIKARA UNDO:
- Nautilus
- a.o.

BREATH exercises, KOKYU UNDO

Niets is Onmogelijk
不可能はないです
Jaap Kooman
コ オ マ ン . ジ ャ ア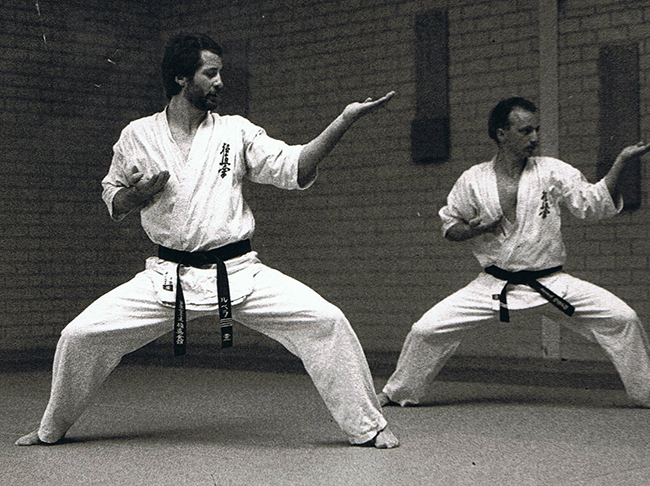 I. Shihan Henny Ruberg en sensei Martin Loeve (IKO - Hontai) voeren Seienchin Kata uit (1984).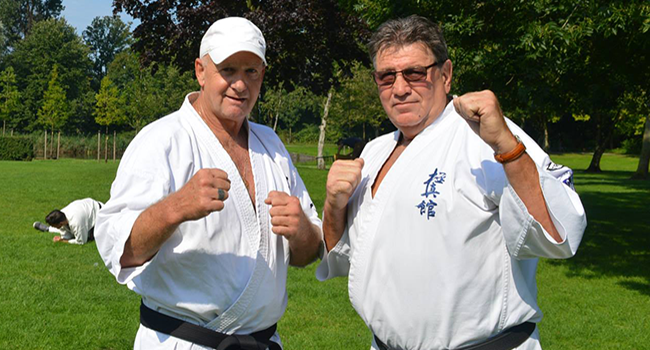 I. Shihan Vlado Haljer (KIKO - Katsu Heiwa) met Shihan Jan Vleesenbeek (NKKO/KWF - Budokai Vleesenbeek) (2016).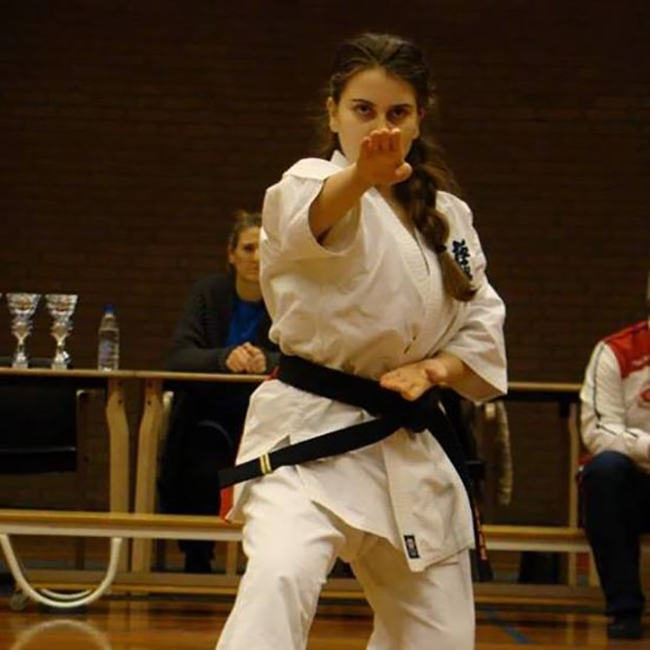 I. Sempai Ecem Yuksel (KWF - Budokai Vleesenbeek) voert de Sushiho uit (2018).
II. Sensei Jan Kallenbach (Tai Ki Ken International - Shin-ShinBuKenen) - in Ritsu Zen (2018).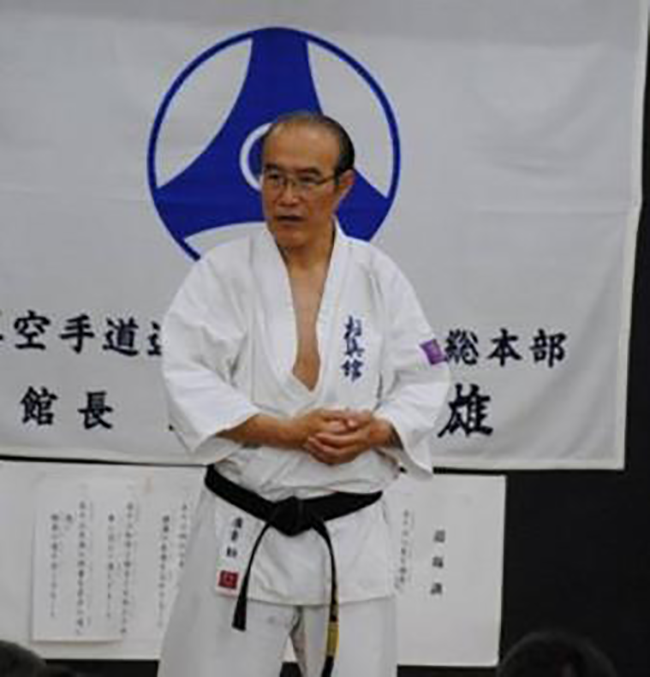 III. Shihan Tsuyoshi Hiroshige (Kyokushin-kan Fuku-Kancho) - founded Kyokushin-kan together with Kancho Royama Hatsuo with the intention of reviving Kyokushin Karate to the status that it held during Mas Oyama's lifetime. As coach of the National Japan Team he introduced his fighters with Tai Ki Ken (2016).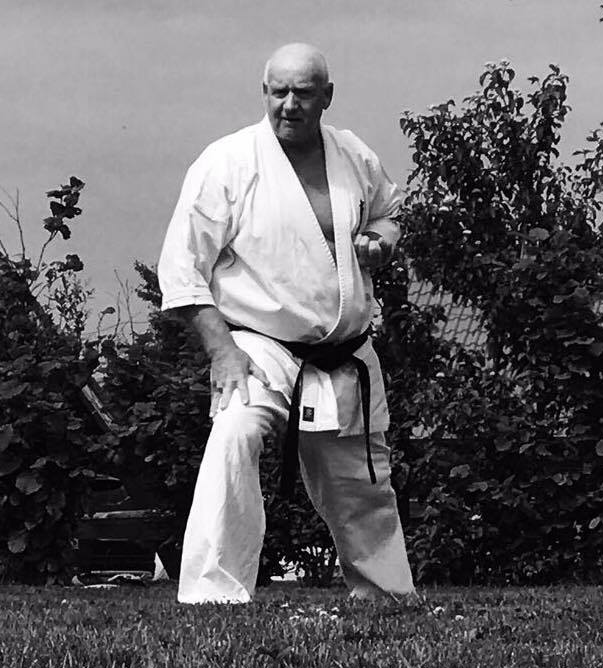 III. Shihan Jan Vleesenbeek (KWF) - For me one of the best teachers in Budo and Kyokushin (2017).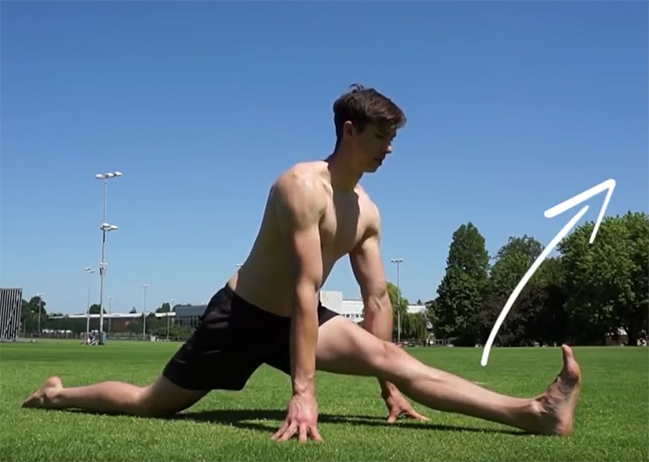 IV. Tom Merrick in active front split PNF (2017).